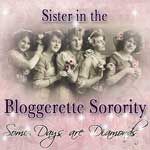 Won't you join us?
The lovely, Karen of, Some Days Are Diamonds blogspot is hosting the Bloggerett Sorority and your all are invited to RUSH the Bloggerett Sorority this coming June 25th.
What fun we shall all have and there are so many more Sisters to meet!
Won't you join us for parties and giveaways, tours and workshops, sharing creations and ideas - all of this, and more, is in store for all of us.
Be sure to RUSH on over to Karen's blog post for all the juicy details!