Six ingredients if you add chocolate candy and turn them into: Peanut Butter Blossom Cookies ;)
SO...GATHER YOUR INGREDIENTS:
1 14 OZ. CAN Sweetened condensed Milk
¾ cup creamy peanut butter
2 cups "Biscuit" baking mix
1 teaspoon vanilla extract
Granulated Sugar
Bag of Chocolate Kisses or other candy
Preheat oven to 375 degrees.  In large mixer bowl, beat condensed milk and peanut butter until smooth.  Add the biscuit mix and vanilla: mix well.  Note: your batter will be heavy and sticky...I thought ole Betsy here was going to burn out on me ;)
Shape the dough with your hands into 1-inch balls and then roll into a small bowl of sugar.  This is a great activity for you and your kids to do together and you all can eat this cookie dough because there are no raw eggs in the batter to worry about ;)
Place them approximately 2-inches apart on un-greased baking sheets (or on Sile pads if you have them).  At this point if you are just making peanut butter cookies then you will need to flatten each ball with fork (and make pretty grid marks that even Martha would be proud of ;) and bake 6-8 minutes or until lightly browned (do not over bake).
However, we are making Peanut Blossoms:  so do not flatten.  Instead just place them in the oven and bake for 8-10 minutes.  While your cookies are in the oven...you need to quickly un-wrap your chocolate candies.  Normally I just use chocolate kisses but these Butterfingers Bells were on sale this week at my grocery store and I thought that they would be perfect for these peanut butter blossoms.
As soon as you have removed the baked cookies from the oven...immediately press the candy into the center of each ball.
This recipe makes 3 dozen cookies...but I only made 33...lol  Guess my balls are a little uneven!  AND yes...I could have pulled out my cookie scoop if I wanted perfectly uniformed balls...BUT that would have required me to look for another utensil which then takes the EASY part out of this recipe ;)
Let them cool completely before you try to move them...otherwise this will happen...
Yuk...looks like you know what...good thing DH didn't see this photo before I fed him this one...lol   Just put them aside and don't touch them...don't even think about touching them...don't even think about, you thinking about touching them!!!
If you are in a hurry then you can pop them into the refrigerator to harden the chocolates.  Or you can use this time wisely to hand-craft your cookie gift canisters...
...also known as Pringles Chip Cans ;)  I save them for this time of year to give cookies away in ;)
It makes me feel green to recylce them and they really are the perfect size for stacking cookies in.  Simply wash them out with soap and water and once dry, cover the outsides of the cans with either holiday paper or kraft paper like I choose here.  These are going to  a couple of my favorite guys so kraft paper is perfect with my fancy kraft paper labels ;)
Love the clear tops so you can see the cookies stacked inside and then I simply add a decorative tag by tucking the ribbon inside the lid...
 
 
Then you simply flip the tag over and read who they are being delivered to...
Today was my Christmas baking day because we are going to see my hairdresser tomorrow (love you James ;) as well as my family, so I wanted to deliver them all some Christmas Cheer.  So I'm linking up to Stepahnie Lynn's Sunday Showcase Party to share these fun re-cycling tips for holiday packaging ;)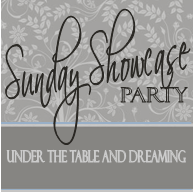 Found these lovely Paula Dean cupcake/baked goods boxes on sale at Michael's yesterday and just couldn't resist them...so darn cute and handy to have on hand and at a buck a piece why not? 
Heck these boxes are cheaper than trying to wrap them up in anything else...just add a sheet of tissue paper...especially if you have Blueberry Cornbread Muffins that are oozing blueberries ;)
Yummy in My Tummy!  It's been a great Foodie Friday and I baked two dozen Blueberry Cornbread Muffins, one batch of Peanut Butter Blossom Cookies and a batch of Chex Party Mix and they are all ready for delivery...don't worry DH got some of the muffins and he also tried to eat all of the nuts out of the Party Mix :] 
How about you...what is inspiring you all for Foodie Friday?
Earlier I saw some awesome Stuffed Mushrooms that called for Fritos...now that I have to try!  Hope you all have a wonderful weekend.
Fondly, Roberta